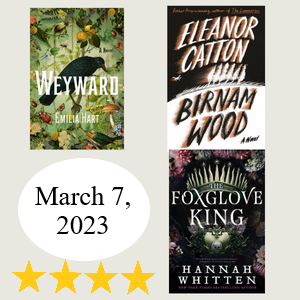 Three very good books were released yesterday, March 7, 2023.
My rating for all three is four stars ⭐⭐⭐⭐ .
Disclaimer: Thanks to Netgalley and Macmillan for sending me a copy of Weyward; Edelweiss Plus and Macmillan for sending me a copy of Birnam Wood; and Netgalley and Hachette for sending me a copy of The Foxglove King; all for review consideration. All opinions are my own.
Weyward
WEYWARD by Emilia Hart (St. Martin's Press/Macmillan) is a debut novel and Book of the Month Club selection for March. It also received a Publisher's Weekly starred review.
My annotated review appeared in the March edition of LibraryReads:
Weyward: A Novel

by Emilia Hart (St. Martin's Press)
Men are always trying to control the Weyward women, but they always fail, because the Weyward women can call birds to their aid. This matriarchal clan of witches is almost broken until Kate, who stars in the most recent of the three timelines. Practical Magic meets Margaret Atwood in an unflinching feminist fantasy that is boiling over with rage and loaded with empowerment. Novelist Read-Alike: Hester by Laurie Rico Albanese.
Birnam Wood
BIRNAM WOOD by Eleanor Catton (Farrar, Straus and Giroux/Macmillan) is a thriller with an ending that shocked me to my core. I posted a mini-review on Early Word Galley Chat (#ewgc) on Mastodon.
BIRNAM WOOD is for readers who like a gripping psychological thriller with a super-shocking ending, but unlike many authors of novels in that genre, Eleanor Catton deeply examines the conflicting motives and values of the characters. Guerilla gardeners are pitted against a megalomaniac billionaire with a staggering amount of power and technology. March 7 release. #ewgc @ewgc @bookstodon #bookstodon
The Foxglove King
THE FOXGLOVE KING by Hannah Whitten (Orbit Press/Hachette), whose books FOR THE WOLF and FOR THE THRONE in the Wilderwood duology I very much enjoyed, is an epic fantasy. It is first in the series "The Nightshade Crown."
Kirkus Reviews calls it "A perfect blend of shadowy gods, forbidden romance, and political court drama." Here is my full review from LibraryThing:
Thanks to Hachette for the ARC in exchange for an honest review.

Cons: The worldbuilding struck me as shallow, two of three main characters (Lore and Gabriel) are not well fleshed out, the whole thing reads like YA and some of the inclusivity is awkward and forced.

Pros: Bastian is almost a perfect enough character to carry the whole novel with a flourish and flair. Whitten is masterful in writing about just plain sexual desire and how it can slip in unexpected ways, or more accurately, in queer ways. I feel that Whitten is on the cutting edge of this kind of writing and will only get better and better, and so will this series. She is also wonderful with humorous dialogue and there is loads of it to enjoy here. The ending was spectacular and I impatiently begin my very long wait to discover what happens with the delicious trio of the royal, the witch, and the monk. Adaptation is guaranteed, so that is something else to look forward to.
#Weyward #BOTM #EmiliaHart #witches #magic #BirnamWood #EleanorCatton #thriller #environment #EvilBillionaire #TheFoxgloveKing #TheNightshadeCrown #HannahWhitten #Wilderwood #duology #mythology #fantasy #feminism #queer #LGBTQ